The crypto market is currently under bearish hold. The top guns of the market, like Bitcoin, Litecoin, Ripple, etc. are under the same impact. Ethereum also falls in the same category, and due to the market pressure, the coin is spotted trading under market pressure. The intraday traders might have to bear losses. Thus, they are recommended to hold on to their investment for a while.
ETH/USD Price Chart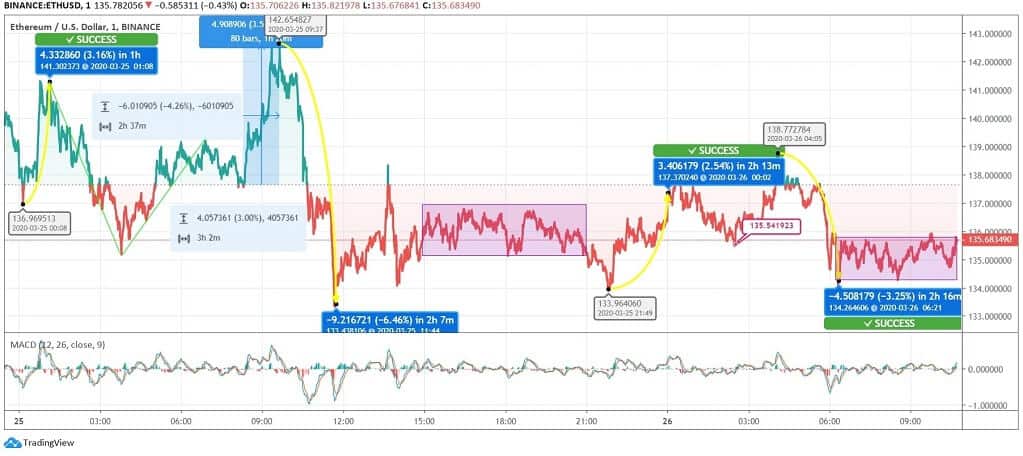 Yesterday, Ethereum started dealing at $138, but in the next hour, it marked a moderate hike and touched $141.30. However, the currency couldn't hold itself at this level and dropped to $135 by 4.26% fall. After this fall, ETH reflected V-shape recovery, and the price reached $139 in the next 3 hours. Later, it plunged slightly to $138 again, but in the next one hour, it registered a steep hike and touched $142.654.
Further, the currency experienced a hefty fall that brought the Ethereum price to $133. The coin spiked at $138 but slipped to $137 and hovered at the same level till 21:00 UTC. During the closing hours, the ETH coin price slipped to $133.96, but then it improved to $137 and ended the day.
Today, while opening, the price of Ethereum marked improvement and traded to $138.77, but in the next two hours, it slipped to $134.26. After this moderate fall, the ETH price hovered around $135. As per the current price movement, the coin may trade upwards and breach the next resistance of $136.5 in the upcoming hours.