Ethereum price movement is reflecting consolidation in the intraday chart. Yesterday, the price was at $157 at 08:50 UTC, and today it is at $152. The loss might increase in the upcoming hours. The improvement in the ETH coin is likely to be postponed for today. The intraday trading might remain around $150 price mark.
ETH/USD Price Chart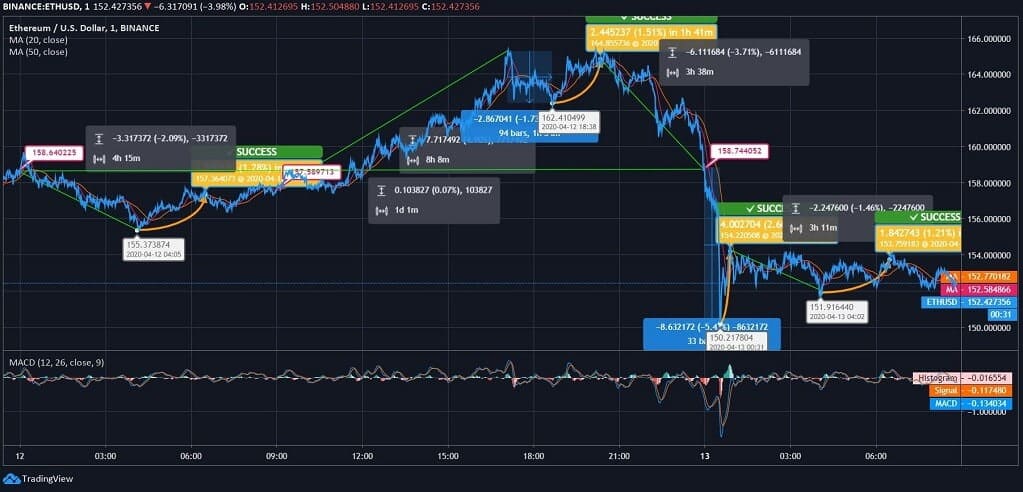 Over the last week, Ethereum price was trading above $170, but then it faced gradual decrement in the price with in-between spikes. If we look at the price trend of ETH against USD over the past 24 hours, the coin was at $158, and within 4 hours, the price dropped to $155 by 2.09%. From this price point, the currency registered a marginal hike and reached $157 at 06:29 UTC. Then, the currency continued the upside movement, and with a moderate upsurge, the ETH price escalated to $157 at 09:00 UTC.
Further, the price of Ethereum reflected a steep hike of 4.09% and reached $165 in the next 8 hours. Then, with a marginal drop at $162, the currency again marked upward trading and it touched $164. However, after trading above $160, ETH price faced rejection and fell to $158 by a 3.71% decline, and the day closed at $158.
Today, the currency started trading with a massive plunge. Within 30 mins, the coin touched $150 by 5.40% fall. However, immediately, the coin escalated to $154, but again it faced a moderate plunge and dropped to $151 by 1.46%. After this, the ETH coin managed to continue trading around this level, and at the time of writing this analysis, the price spotted at $152.42.
Technicals
Ethereum's daily MAs, namely, 20 & 50 days, is trending above its current price, and hence, if it reflects upside momentum, the price might cross them at $152.28 and $152.77.
The MACD is reflecting bearish crossover as the signal line is overlapping the MACD line.
As per the above technical indicators, the ETH price might trade around $150, and if it corrects down, then it may cross its major support level at $148.