Ethereum (ETH) has been holding its ground strongly against the continual bearish pressure in the crypto market. However, today, it faced a sharp decline, and the price fell to $161 after registering a high of $174 recently. The price of ETH coin has been moving mostly in the upper range over the past three months. The price has been fluctuating in the range between $114 – $284 over the said timeframe.
Ethereum Price Analysis
ETH coin has been outwitting the bears at regular intervals, as seen from the 3-month price chart. The coin started on a low note at $143.70 on January 13. It then started trading with upward momentum and reached a high of $284.45 on February 19, showing an improvement of a massive 97.95%. The hefty volatility was strongly visible in the market when the price of Ethereum went down to $114.36 on March 13, showing a downward variation of 59.79%.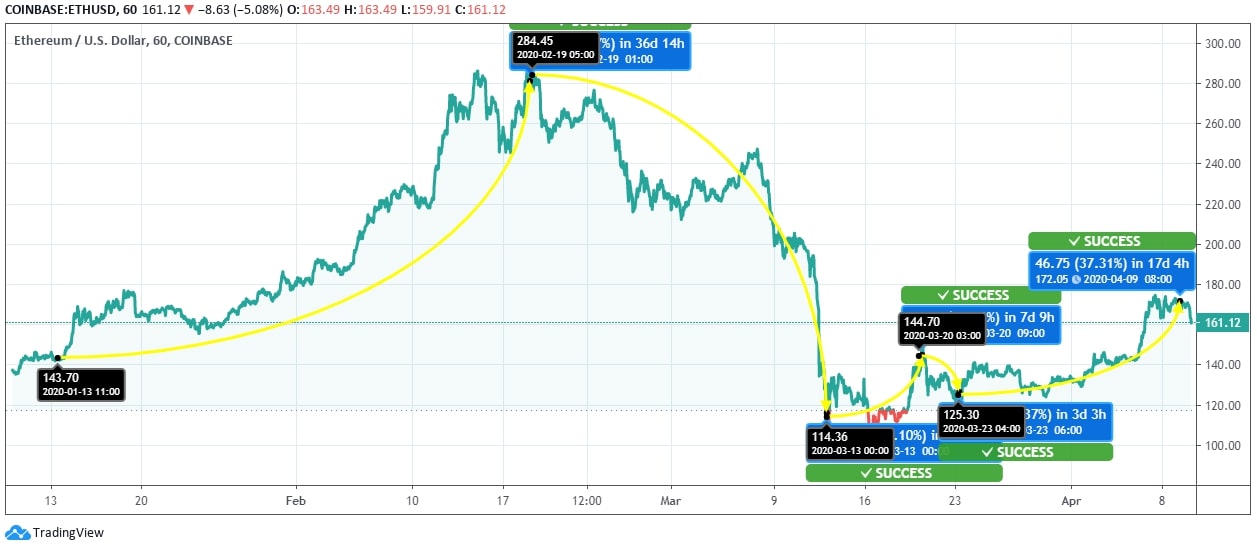 ETH coin made a recovery after this massive fall, and on March 20, its price went up by 26.84%, and the price touched $144. After three days, the price of Ethereum again went down to $125.30, showing a downward momentum to the tune of 13.41%. The currency still managed to move in the upward direction and reach a high of $172.05, showing an upward swing of 37.31% yesterday, but today, the currency has gone down slightly to $161.12, the fall is at 6.33%.
As per the current price trend, analysts are confident that the ETH coin might correct down even below $150 mark in the near-term. And hence, traders should continue to trade with a cautious approach.